4 Easy Steps To Adopt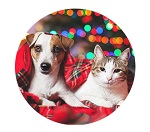 1. Choose your pet

2. Fill Application
3. Meet with us
4. Bring your friend home
This is a part of our Corporate Social Responsibility (CSR) activity. We encourage adoption of abandoned animals which are currently in various animal shelters. We rescue hundreds of homeless, abandoned and injured animals each year that are in need of caring families. The first step towards adopting is to submit an adoption application. Once you have submitted an adoption application, our volunteer staff will contact you within 24 – 72 hours. If you have any questions, you can contact us by email at adopt@binkymart.com. Thank you for your interest in this noble cause.
ADOPT DOGS
Name : Fluffy
Gender : Male
Age : 0.7 Years
Fluffy is a very sweet and playful dog. He is 7 months old, vaccinated, Indian male dog. He is looking for a loving family. He likes playing with toys and enjoys other busy interactions. Playful dogs like him enjoy a good game of fetch or just quietly chewing on a stuffed animal.
Name : Bruno
Gender : Male
Age : 2 Years
Bruno is looking for his forever family. Bruno is 2 years old spitz male dog. He is vaccinated and neutered. Affectionate dogs like him are cuddly and love snuggling and giving kisses. He might be a little shy.
He loves to be busy, both physically and mentally. He'll enjoy seeing and doing things with his new family, and prefer an active household. Energetic dogs like him need a companion who can provide adequate mental stimulation and exercise, such as running or playing Frisbee!
Name : Rocky
Gender : Male
Age : 2 Years
ROCKY is here to find his family! Rocky is a 2-year-old GSD mix boy, who is looking for his forever family! Rocky has had a rough past as he was abandoned by his family on road and was rescued and then, was abandoned again. Rocky takes his own time to gel with people. Hence, he requires an experienced family who would be willing to give him space. He is vaccinated, sterilized & healthy, playful happy dog. Currently, in shelter, he is desperately waiting for his forever family to come and sway him away!